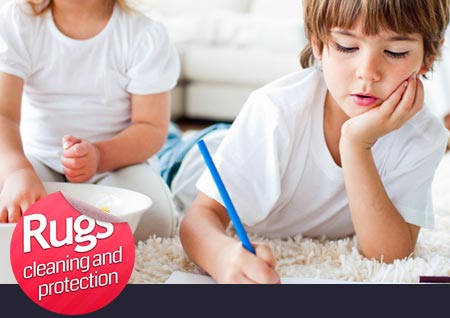 If You Want Your Rug Really Clean - Call Houston Carpet Cleaners
Whether you are the owner of an antique heirloom rug or simply want to remove a pet stain from a store bought area rug, Houston Carpet Cleaners' skilled and experienced cleaning professionals are just a phone call away, offering you onsite cleaning of the rug or free pickup and delivery back to your home.
Rug cleaning can be performed at your commercial or residential space or at our professional rug cleaning facility in Houston, serving The Lakes as well.. Synthetic rugs are typically cleaned on the spot since they are less delicate and designed for modern day cleaning equipment. Older hand woven rugs or oriental rugs, which are often made of natural fibers, may require a different kind of cleaning and a more meticulous cleaning process. Both synthetic and natural fiber rugs require the right treatment, and super attentive cleaning. The technician will decide on the best care for your rug, whether it is onsite cleaning or at our rug cleaning facility.
Professional cleaners know how to clean rugs without damaging them with too much moisture. It is disadvantageous for synthetic and natural rug fibers to be over wet in the cleaning process. However, the risk is much higher with Oriental rugs or Persian rugs because this kind of damage will permanently damage the rug fibers, its fringes and general composition, which may thus lower its value.
We Can Clean What Your Vacuum Can't
Even if you try very hard, a home vacuum just doesn't have enough power. A commercial grade carpet cleaning machine is far more robust, capable and efficient. When cleaning a rug, it's not just about the results, it's also about quality and the right equipment. In other words, professional carpet and rug cleaners have the proper tools to reach between rug fibers to remove the dirt, soil, and other contaminants that regular vacuums cannot actually extract. The sudden clearing of rug fibers, in addition to the cleaning solutions applied during the cleaning process, actually leaves your rug looking cleaner, brighter, and more colorful in only a matter of minutes. With the right equipment and staff, not only will your rug get cleaned, it will get cleaned better, faster and more efficiently.
At Your Home or at Our Rug Cleaning Facility
If possible, we'll clean your rug at your home, with no extra effort on your side. If your rug requires it, we'll transport it to our rug cleaning facility in Houston TX, serving the entire Houston - Sugar Land - The Woodlands metro area and The Lakes rug cleaning needs.
To decide which type of cleaning your rug requires, we'll have to inspect it first. Call our customer service staff at 713-936-5770 and schedule a free onsite estimate for The Lakes rug cleaning. Our cleaning technicians will arrive to your home, inspect the rug's condition and decide on the best cleaning process to give you the best results, and restore your rug's splendor and colors.
Still Not Convinced? A Few More Benefits:
Advanced Rug Cleaning Methods
High Standards of Cleaning
Excellent Cleaning Results
Tailored Service for Best Protection of Your Rug's Fibers
Thorough Rug Cleaning Including Pet Odor Removal, Stain Removal, Fiber Protector & More
Call 713-936-5770 for The Lakes professional rug cleaning. We're here to treat your rug right, and bring back the colorful and lively rug you remember from when it was new.